La Fantasia per Ensemble - nata dalla scomposizione e riassemblamento di alcuni degli Estudios Sencillos di Leo Brouwer - é stata composta nell'ambito di un esperimento didattico condotto al Conservatorio "Vincenzo Bellini"  di Palermo alla fine degli anni '90, allo scopo di  introdurre una riflessione sull' arte dell' improvvisazione nel corso di chitarra classica.

Ringrazio anzitutto Fulvio Buccafusco e Dario Carnovale, giá allora  - e ancor piú oggi -  affermati jazzisti di prima classe, il cui contributo creativo fu perno essenziale di tutto il lavoro delle chitarre.

Dall' entusiasmo  degli allievi di allora derivò una fortunata serie di concerti e la registrazione pubblicata dalla rivista Guitart nell'anno 2000: la si può ascoltare in questa ristampa.

Nei circa 15 anni successivi sono naturalmente accadute molte cose nel percorso artistico dei protagonisti di quell' eccezionale esperienza: alcuni ex-allievi lavorano oggi come musicisti, altri sono professionisti affermati in campi diversi da quello musicale.

A detta di ciascuno peró il minimo comun denominatore e` il valore inestimabile che l'esperienza dell' Ensemble ha avuto nello sviluppo successivo di tutti noi: per questo ho voluto chiedere oggi agli ex-allievi una breve testimonianza in proposito.

Per quanto mi riguarda ho avuto modo di approfondire l'arte dell'improvvisazione attraverso la frequentazione assidua della scena musicale newyorkese alla quale mi sono profondamente legato in questi anni. In quell contest ho avuto modo di conoscere un musicista che ha avuto su di me una particolare influenza, sia musicale che umana: si tratta di Lawrence "Bucth" Morris, prematuramente scomparso circa un anno fa. 

A lui il nostro  Reloaded e` dedicato.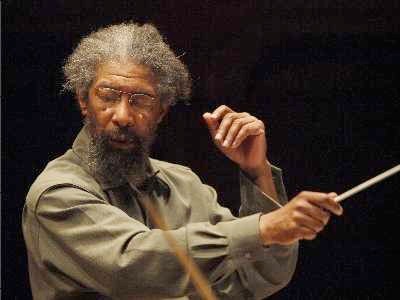 Butch Morris è universalmente noto per la sue memorabili conductions: improvvisazioni  con larghi organici che ha praticato con straordinaria coerenza durante l'arco di oltre 20 anni, lavorando con ogni sorta di ensemble - fino all'orchestra sinfonica - raggiungendo risultati incredibili documentati da numerose registarzioni per importanti etichette discografiche. 

Il nostro esperimento di Ensemble era inconsapevolmente ispirato alla pratica che avrei personalmente approfondito a New York,"condotto" da Butch come chitarrista in formazioni come New York Skyscrapers o Nublu Orchestra.

Quando ho incontrato Butch Morris ho avuto la sensazione di camminare su una strada fino allora vista solo in sogno: come un cerchio che si chiude, svelando finalmente tutte le sue potenzialità. Al momento della sua scomparsa Butch era in procinto di trasferirsi a Bologna, dove avrebbe stebilmente diretto una vera orchestra nell'ambito di una residenza artistica che sarebbe dovuta durare diversi anni. Sono certo che  i Conservatori italiani si sarebbero contesi i suoi workshops,  con grande vantaggio della didattica musicale nel nostro paese.

Nel dedicargli la nostra musica - oggi ristampata da dotguitar - vogliamo ricordare una sua massima, personalmente raccolta ed annotata durante una prova, in onore di tutti coloro che in arte hanno il coraggio di andare per sentieri sui quali non si e` ancora avventurato nessuno:

Don't mess up the name "art" by creating stupidity… Conduction is a process not a product.

Alla tua, Butch Morris.

Marco Cappelli

New York, 6 Marzo 2014

____________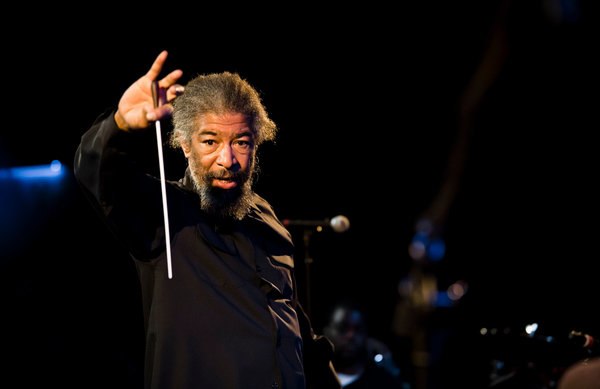 The Fantasia per Ensemble - born from the breakdown and the reassembly of some of Leo Brouwer's Estudios Sencillos - has been composed as part of an curriculum experiment conducted at the Vincenzo Bellini Conservatory of Music of Palermo in the late 90's, in order to introduce a reflection on the 'art of' improvisation in the Classical Guitar course.

I thank first of all Fulvio Buccafusco and Dario Carnovale, already then - and even more so today- established first-class jazz musicians, whose creative input was pivotal to the success of the project.

Thanks to the enthusiasm of the students a successful series of concerts ensued, and finally, in 2000, a recording, published by the magazine Guitart, and reissued in this reprint.

In the past fifteen years a lot has happened in the artistic development of the protagonists of that exceptional experience: some former students are presently working as musicians while others are successful professionals in fields other than music.

All of them however share the feeling that the experience of the Ensemble has been invaluable in each of their subsequent personal development, and that is why I have asked them to give a brief testimony.

As for me I had occasion to deepen the art of improvisation through my assiduous presence in the New York music scene, which I have been profoundly linked to in recent years. Within that contest, I got to know a musician who has had a strong influence on me, both musically and personally: Lawrence D. "Butch" Morris, who prematurely passed away about a year ago.

To him our Reloaded is dedicated.

Butch Morris is known worldwide for his memorable conductions all over the planet; improvisations with large and small ensembles of different kinds -including symphony orchestras -which he conducted all with remarkable consistency during the span of over twenty years –achieving incredible results as documented by the numerous recordings of his 199 conductions for major record labels.

Our Ensemble experiment proved to be unconsciously inspired by the practice that I would personally end up deepening in New York as a guitarist in formations such as New York Skyscrapers and the Nublu Orchestra, conducted by Butch Morris.

When I met this extraordinary musician, I had the feeling of walking on a road hitherto seen only in a dream, a circle closing once it had finally revealed its full potential. 

At the time of his death Butch was about to move to Bologna in Italy, where he would have regularly conducted a symphonic orchestra as part of an artist residency that was expected to last several years. I am sure that the Italian Music Conservatories would have contended among each other to host his workshops, to the great advantage of musical education in our country.

In dedicating our music to him - now reprinted by DotGuitar - we want to remember one of his sayings, personally heard and noted during a rehearsal by me, in honor of all those who in the Arts have the courage to walk the path no one has yet ventured on:

"Do not mess up the name 'art' by creating stupidity. Conduction is a process not a product"

Here's to you, Butch Morris.